Rhino Relocation 2017, Botswana
2017 - Felix travels to Botswana! - Donation of US$ 45,000
The SwissAfrican Foundation joined forces with the Great Plains Foundation & andBeyond to move several rhino from South Africa to Botswana at the end of March 2017. The SwissAfrican Foundation contributed to moving one rhino at a cost of US$ 45,000.
Many thanks to all our donors! >
Great Plains Foundation sponsor page
Subject: Felix
Age: 7
Species: Rhino, White
Sex: Male
Weight: 1'424 kg
The twelve rhinos were taken to Durban and then flown by the Botswana Defense Force in a large transport plane to the Okavango Delta. Four rhinos were transported per flight, with the whole process taking about a week. South Africa loses more than 1,000 rhinos every year to poachers, and there is a risk that the stock in South Africa will be completely eradicated.
We had the opportunity to experience and document the arrival of the rhinos in Botswana. The approach of a 4-engined Lockheed C-130 Hercules military aircraft on a small runway in the Okavango Delta, accompanied by the loud howling of engines and a lot of whirling dust, was definitely more impressive than the Cessna Caravans or C206s that usually land here.
But today's guests weighed between 800 kg and 1.5 tons, and sported two distinctive and serious-looking horns! The arrival of the rhinos was cause for great celebration and the President of Botswana, His Excellency Ian Khama, and the Minister of the Environment, Minister Tshekedi Khama, who were also present, were delighted to greet their most recent guests.
The rhinos were unloaded one by one and flown to a safe location with a Bell Huey helicopter. They were each given an antidote to the sedative, and within seconds all the rhinos woke up to their new life in Botswana.
We are delighted for FELIX that he has found a new and safe home in Botswana.
More success stories related to this project
Our partner
Dereck & Beverly Joubert - Great Plains Foundation
Dereck and Beverly Joubert are globally recognized, award-winning filmmakers, conservationists, and National Geographic explorers-in-large based in Botswana. Their mission for more than 30 years has been the conservation of key wildlife species, with a focus on large predators. They are the owners of Great Plains Conservation, which operates some of the most beautiful camps in Botswana and Kenya. Through the Great Plains Foundation, various nature conservation projects are driven forward.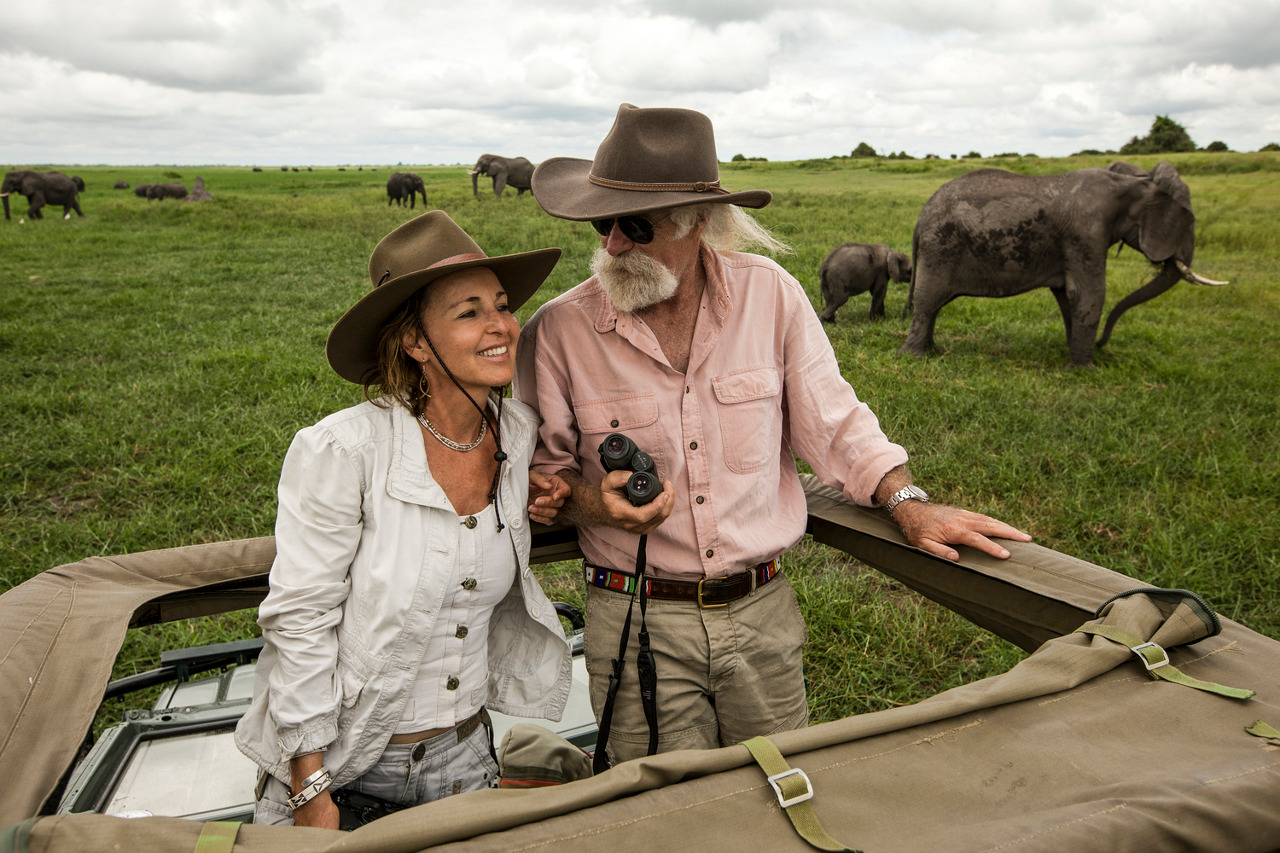 The Jouberts have published 12 books, produced 30 films for National Geographic, and written half a dozen scientific papers as well as many articles for National Geographic magazine. They have received 8 Emmy Awards, a Peabody Award, a Grand Teton Award, multiple Golden Panda Awards, a World Ecology Award (along with Britain's Prince Charles, Sylvia Earle, and paleoanthropologist Richard Leakey), and a Presidential Order of Merit awarded by Botswana's ex-president, Seretse Khama Ian Khama, for their conservation work.
The Jouberts' films have received widespread attention and have been viewed by millions of people. Films like «Eternal Enemies», «The Last Lions», «Soul of the Elephant» and their masterpiece «Eye of the Leopard» are known world-wide. For more information, please visit their website
www.wildlifefilms.co
All of Dereck & Beverly's work has one goal: to save the wild areas of Africa and protect the wildlife that depends on them. The President of Botswana described them aptly when he said, "Theirs is a life long passion; for each other, for big cats, for Africa...they are true "children of Africa."
Learn more about these animals